The environment where learning happens in a child plays a crucial role as regards how effectively the learning happens. That's why it becomes important to set up indoor learning environment for preschoolers in such a way that it not only fulfils a child's basic needs, but also supports and encourages them to actively participate in all the activities they can learn from.
An effective indoor learning environment is one that has designated spaces that caters to different requirements of both children and teachers/caregivers.
In this article:
Caregiving Area
Group Activities Area
Quiet Time & Privacy Area
Storage Area
Display Area
The following are 5 key essential spaces that need to be considered during the planning, designing and set up of indoor learning environment.
1. Caregiving Area
Caregiving activities include (and is not limited to) eating and feeding, sleep and rest, toileting, cleaning, changing of clothes, and welcoming and seeing-off every day. These activities need various equipment like tables, chairs, racks for storage, etc.
These caregiving areas gives a range of learning experiences for children, and in the process, promotes self-help skills in them. For instance, a child can:
Take up the responsibility to keep, take and use clothes from the racks by himself or herself.
Eat independently to develop fine motor skills.
Climb the chair or table to develop gross motor skills.
Wash hands in the sink and get accustomed to habits of hygiene and cleanliness.
Hence while planning and designing indoor learning environment, the caregiving area should be designed such that the area is safe, stimulating to learn, and is clean and hygienic for healthy growth and development of children.
2. Group Activities Area
One of the key questions an early childcare centre or preschool should ask and have clear answers for, is for the question "How to set up learning environment to promote students' participation in group learning activities?"
Group activities provides experiences for children, especially toddlers and pre-schoolers, to groom their abilities to interact, imitate, investigate and explore; thereby preparing them to learn. When children learn to interact within and outside a group, it helps them acquire socialisation skills, therefore ensuring a holistic development in them.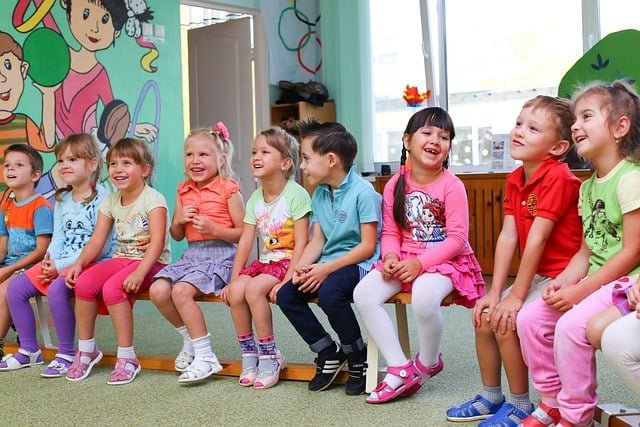 A study by the Norwegian University of Science and Technology (NTNU) emphasises the role of positive learning which "…. happens in a collaborative (rather than competitive) environment that encourages self-directed learning". You can read the findings of the study by by clicking here.
Group activities not only enable children to express their thoughts and ideas, it also helps them learn from their peers, both within and outside their group. Group activities also help children develop their motor skills by making actions and imitating each other through songs and rhymes.
Group activities also make children aware of different sounds, words and even languages. Hence, creating early learning environment with space that is exclusively meant for group activities gives exposure for children to a vast range of experiences that can facilitate them to learn languages and improve their vocabulary.
This is one of the key reasons why it is important to plan, design and set up indoor learning environment for preschoolers in such a way that it significantly reduces or eliminates disturbance during group activities.
3. Quiet Time & Privacy Area
It is a natural tendency that we as humans need a quiet time to be by our own selves. Being with people continuously for long stretches of time can be exhausting – emotionally. The same holds good in the case of young children as well, as they are still undergoing the process of emotional development.
It therefore becomes important to provide them with adequate space for privacy every time they want to take some time off from the group. A corner with a bed and pillow, a corner with soft toys, a book corner, or even a little space for a quiet play time in private can help them to be in a relatively calm environment and regulate their emotions.
4. Storage Area
Indoor learning environment for toddlers and preschoolers require space for various kinds of materials to facilitate learning.
This includes toys to play, like vehicles, animals, birds, fruits, vegetables, houses, games like snakes & ladders, puzzles, abacus, books and materials for reading and writing like slate, picture books and other resources for first-hand experience. Space is also required for displaying and storing children's artwork and other creative works.
Types of Storage
Storage space areas play a very important role within an indoor learning environment for preschoolers or toddlers. There are three types of storage areas (Dodge D. T., et al – 2010), namely:
a) Open Storage
Open storage enables convenience and makes it easy-to-access. Materials that are used regularly on an everyday-basis are stored in open storage spaces. The shelves should be labelled as per the materials that are placed in it for quick and unrestricted access. The open storage can be a space that can be accessed by children too.
b) Closed Storage
Closed storage spaces are for materials meant for teachers, facilitators and other enablers. The primary use of closed storage spaces is to place records meant for maintenance, office supplies, etc.
It is also meant for storing items that contain chemicals, like detergent, lotions, cleaning liquid, among others, so that they are out of reach of children. This ensures children's safety, which should always be paramount.
c) Personal Storage
Personal storage area is a space for storing personal belongings of children, teachers, facilitators and other personnel/enablers. The space should be labelled with a picture and name of the person for whom the space is designated.
For instance, a child will identity his storage area with his or her picture in that particular space. The first two alphabets of the child's name or the first name and the initials has to be written and pasted for easy identification.
Personal storage spaces allow children to access their own things, like clothes, blankets, shoes, gloves, socks, towels, bags, etc. The important aspect of this storage space is that it gives the child a sense of belonging with the childcare centre/preschool and makes them feel 'at home'.
Most of all, the personal storage area gives children a sense of independence and control, as they can access the space and materials all by themselves.
Similarly, the teachers, facilitators and other personnel can also store their personal belongings, which can be kept out of reach of children. Not only does it help them keep their belongings like handbags and other items, it can also help them keep items that may be unsafe for children, such as medicines, mobile phones and makeup materials.
5. Display Area
Displaying children's artworks, other creative works and portfolios can make them feel happy and encourages them to demonstrate more of their creative skills.
Displaying artwork of children in a prominent space within an Indoor learning environment where all children can see is a great way of telling children that their creative ideas are valued and their talent is recognised and appreciated.
Such acknowledgement and appreciation gives children not only a sense of sense of happiness and pride, but also a sense of identity through their work. It also helps the facilitator to record the child's creative developmental milestones, access them, and refer to it at a later date.
Conclusion
The indoor learning environment for preschoolers or toddlers should ensure, at the fundamental level, that adequate space is provided for open space for group activities, and private space for alone time/lone activities. The spaces allocated should strike a fine balance so that they together facilitate and benefit the growth and development of children.
Though the planning and designing of spaces would demand a lot of time, focus and attention, it is important to remember that it is only a one-time effort. Once done, the one-time effort pays off tremendously in the long run, in the form of well-rounded and holistically developed children who go on to become responsible and productive adults.